We recently took to the highway for a leisurely road trip to spend some treasured time with each other, friends and family.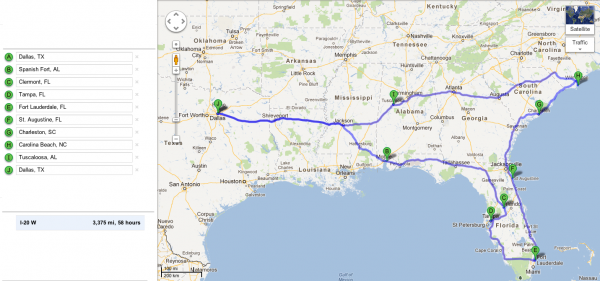 Our road trip route!
Over the course of two weeks, eight states, and 3,375 miles, we took the opportunity to build upon a trip that initially started as a visit to Carolina Beach, NC for our family reunion. First, we noticed that the
Volvo Ocean Race
was scheduled to be in Miami just a week before and with Charleston being an ideal middle point between the two, we were set to make a an extended trip of it. Sprinkle in visits with some of our cruising family and other close friends along the way, Matt's birthday and our anniversary, and we had all the makings of a memorable road trip ahead. While each day was its own adventure, here are some of the highlights.
We:
Spent an evening with great friends from Dallas, The Breens, who now live in Clermont, FL. They're a solid family we connected with at Allaso Ranch (our church's incredible kid's camp). We admire their take on life and sense of adventure and now make it a priority to see them anytime we're nearby.
Turned into Tampa for lunch stop, as our good friend Crystal happened to be in town for the day, visiting the local office of her agency 22Squared. Seafood at Jackson's Bistro, overlooking the canals of Hillsborough Bay, made the sunny and breezy afternoon as good as the company.
Kept our eyes peeled as we drove through Alligator Alley in the Everglades on our way to Ft. Lauderdale but didn't spot any live ones.
Enjoyed several nights in the Ft. Lauderdale/Miami area, including one at anchor aboard s/v Morning Glory under the glowing lights of downtown Miami with part of our cruising family, Ted and Mili, cheering on Puma in the VOR. Lots more about our VOR adventures in the post below this one.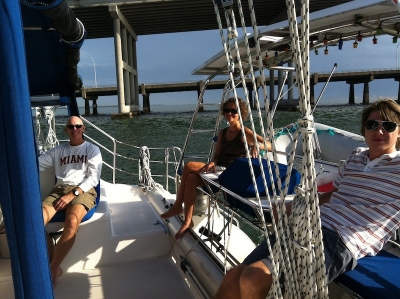 Relaxing aboard s/v Morning Glory
Did a little dream shopping, stopping to look at two potential "next cruising boats" and gave up all objectivity by pretty much falling in love with one (a tragically emotional move in scouting boats). But no offers yet as were waiting until our little skipper arrives before making any major moves toward our next cruising plan.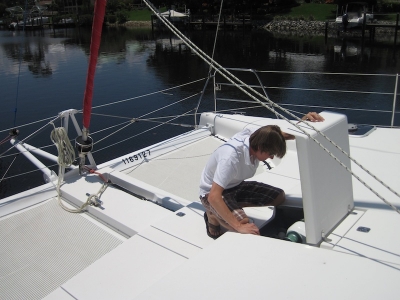 Could this be the next one?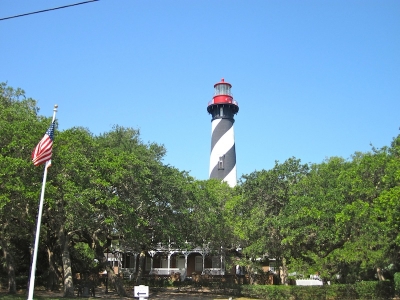 The St. Augustine lighthouse
Returned, at a month shy of a year, to a city that captured our hearts (and stomachs) – the always charming Charleston. We made a "babymoon" of our stay in this beloved city with dinner at Coast and strolls about the town. The next morning we were treated to an exclusive tour of Historic Charleston by Laura Wichmann Hipp, whom we met when we sailed in last summer. As before, it was hard to leave. It seems our anchor always sets the deepest here.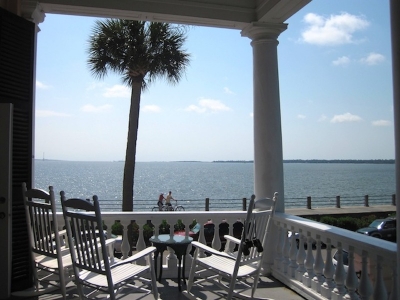 Overlooking the Battery Wall of Charleston Harbor
Joined the rest of the Butcher/Carlson clan for a family reunion in Carolina Beach, NC. With Matt's parents and brother in from Idaho, as well as aunts, uncles and cousins from Minnesota, it made a for a fun-filled week. Boat trips, fishing tourneys, golf, swimming, family banter and laughter around every meal and Mexican Train till you drop made the time fly. The time was further punctuated by a good ole low country boil and a thoughtful and lively group baby shower (for us, Matt's brother Jeff and his wife Mel, and Matt's cousin Steve and his wife, Edie).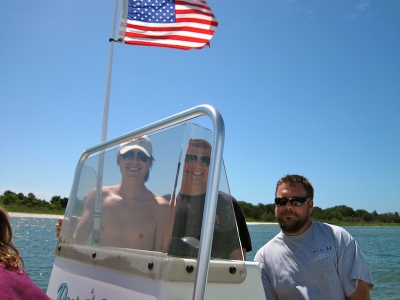 Boatin' with Cousin Jimmy
Appreciated an easy drive back with complimentary hotel stays along the way, thanks to rewards points earned from Matt's recent business travel.
As is often the case when you're having loads of fun, you look up and wonder where the time went. We had a blast and couldn't believe how quickly the time flew by.