Writing our plans in pencil, giving God the pen.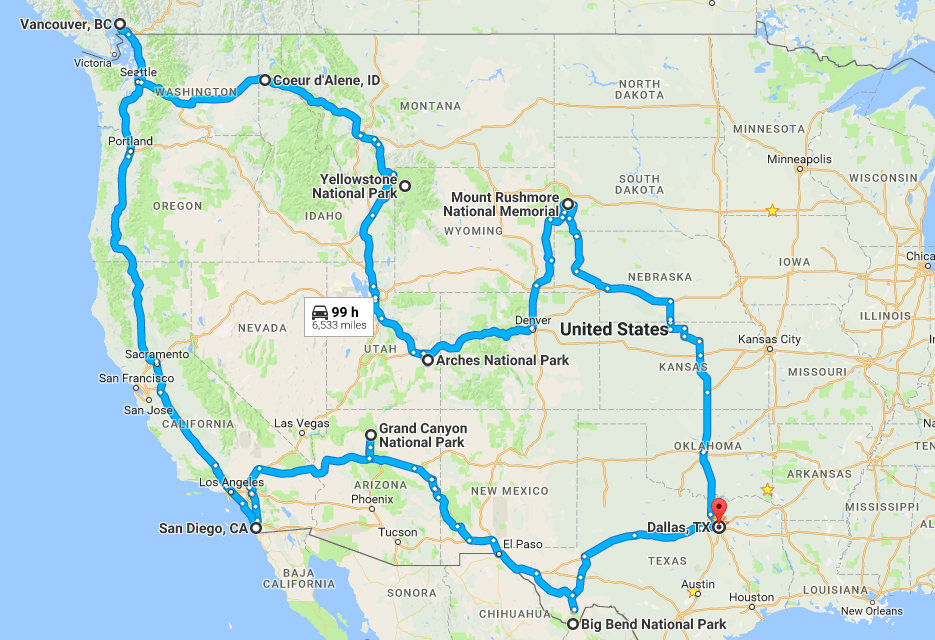 While there will be far more stops than what's shown in the map above, this is our general plan. But as we learned while living aboard our sailboat, "a sailor's plans are written in sand at low tide."
We figure it will be similar when we're full-timing in the RV. Since we've spent time exploring the East Coast while sailing, going west on this route seems like a natural choice. We'd like to visit some of our nation's jewels like the Grand Canyon, Yosemite, Yellowstone, and the shores of the Pacific Ocean along with spending extended time with family and friends along the way.
We have a lot to learn. Once we get the wheels in motion we'll have a better sense of what pace works best for our family. More details to come here.
About The Trip
As we've shared our plans, a common response is "you're doing what!?" Often followed with, "Why?" And it's a good question to ask. We love our life in Dallas, taking a break from it comes with some sacrifice for us. We have an amazing church, friends and family we treasure, were settled into a wonderful neighborhood within the city and Matt has a great job. We've invested in each of them and they've invested in us. And we plan to return to it all. We're taking this extended trip while our family is young, when we can start a foundation of spending significant time together in God's beautiful creation. It's also a way for us to generally recalibrate toward more simple living. The goal is to create some lasting memories as a family while on an adventure exploring America.