Harbour Island is located just off the tip of Eleuthera and is home to a colorful New England-style community and a world renowned pink sand beach stretching over three miles across the entire length of its eastern shore.
From Spanish Wells, the only way for Kaleo to reach this alluring island would be by traversing a treacherous and twisting route through coral reefs and shallow banks known as "The Devil's Backbone." Some boaters take the risk, others hire a local pilot to come aboard to drive them through, and many leave their boats in Spanish Wells and hop aboard a fast ferry for a trip over. Since hiring a guide is about the same price as two roundtrip tickets on the fast ferry and the ferry being less than a quarter of the time to get across (45 min. vs. 4 hours), we opted to hop aboard, kick back and let someone else be the captain for the day.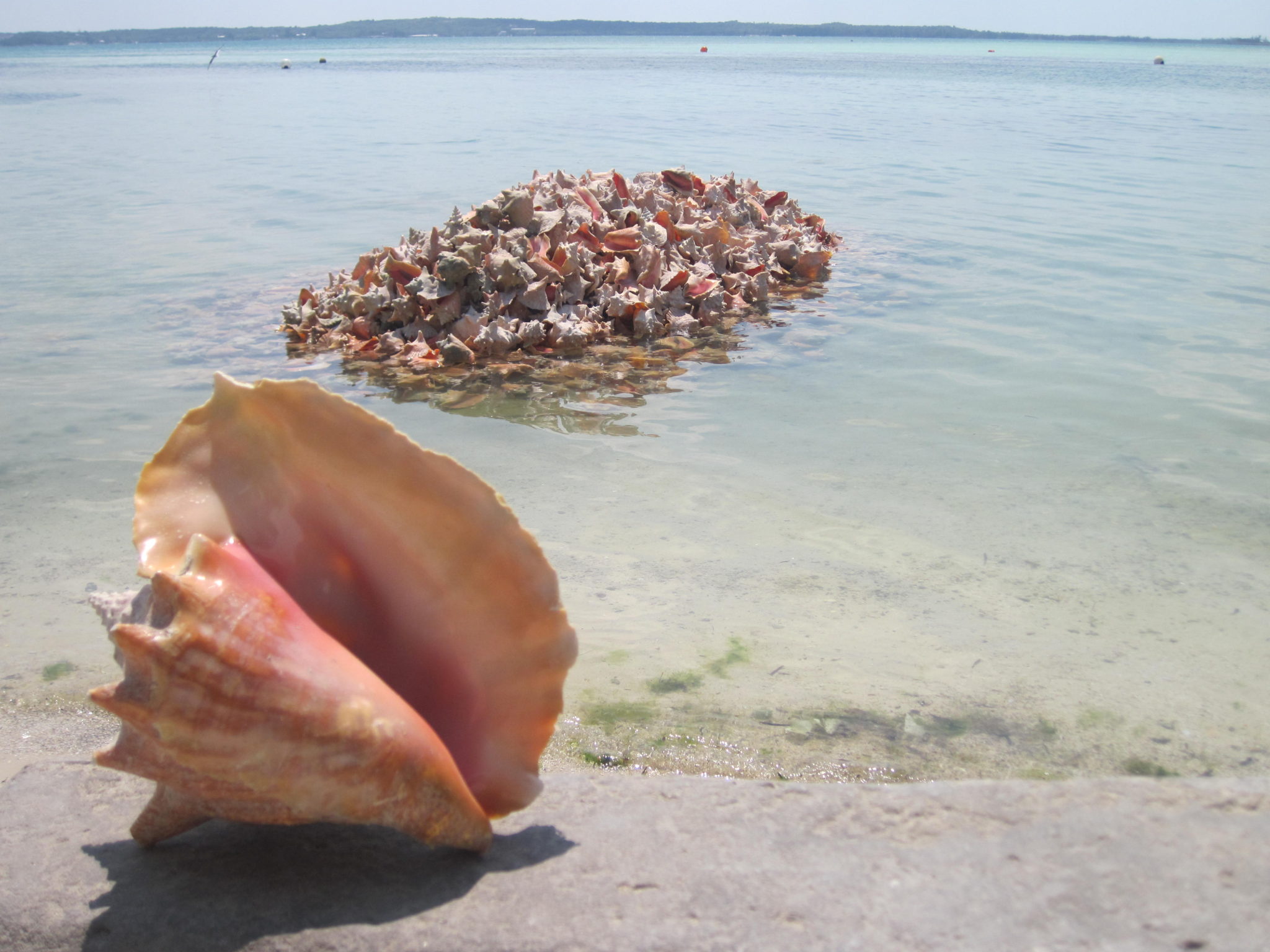 So, Tuesday morning we boarded "Bo Hengy II", a giant 396 passenger catamaran, for an exhilarating ride through the Devil's Backbone. Looking down from the towering top deck, we felt the boat almost lift out of the water as it lunged for its course. The captain expertly jetted through the backbone at upwards of 35 knots! as we could feel the slight maneuvers and see the unusual course he took. At one point, we hugged the shoreline so closely that we could have tossed our own message in a bottle right onto the beach.
After docking, we hopped off and headed up picturesque flower-lined streets eventually bound for the famous pink sand beach. Meandering through a maze of brightly colored cottages, shops and restaurants, we noted how built up and polished this island is compared to the rest of the Bahamas.
Soon enough we found ourselves traipsing down a sandy path that opened up to the powdery soft pink sand beach. A few visitors lounged in nearby chairs and the surf rhythmically lapped up on the beach. The pink beach was, as claimed, not a bright pink, but a gentle hue made up of bits of coral and broken shells.
After walking along the beach, we made our way up an inviting staircase to explore the grounds of the Pink Sands Hotel, a gorgeous beachside campus with bungalows, pools and two highly-recommended restaurants. The menu and the view from one, the Blue Bar, was enough to convince us that we should come back to enjoy lunch overlooking the ocean.
We spent the next few hours wandering the paths and small streets crisscrossing the village to see more quaint villas, the local all-age school, and "Uncle Ralph's Aura Corner" where dozens of foreign license plates and signs have been hung by island visitors. Back at Blue Bar, we chose a quiet corner table shaded by sky blue shutters and cooled by the cresting ocean breeze. First up were a frozen mango daiquiri for the admiral and a Heineken for the captain. Soon to follow were 1) Blue Bar's famous fish tacos with seasoned local Mahi, cabbage slaw, fresh guacamole, pico de gall salsa, and fresh fruit and 2) blackened red snapper served alongside crisp Arugula salad filled with sweet peppers, tomatoes, and red onions with a lemon vinaigrette. It was one of the most mouthwatering meals we've had in a long time and was capped with the traditional Bahamian dessert of Guava Duff (a guava flavored plum pudding in a rolled pastry and drizzled with a brandy sauce).
Fighting a strong urge for a beachside nap, we strolled the pink sands to the far end then winded our way through local neighborhoods. We casually drifted along the waterfront street, admiring island founder's original homes and the local conch bars as we made our way to the ferry dock.
Often times, people ask us where they should vacation in the Bahamas. Until now, it's been difficult to pinpoint a particular island as we traveled here in our floating home and have no experience with the local hotels. Harbour Island is now our recommended destination for those seeking a comfortable, restful stay in the beautiful Bahamas. It offers a Bahamian experience among luxurious hotels and bungalows that many people want when going on a beach vacation. Harbour Island has superb dining, beautiful beaches, local flavor and easy airport access.
We would have liked to experience more of Eleuthera but are grateful for our stay in Spanish Wells and Harbour Island. Next stop … The Abacos!